Infrastructure
The KVK has very well developed infrastructure facilities which are depicted below:
Administrative Wing
Administrative wing of KVK was constructed in March, 1996 which having separate rooms for technical as well as administrative staff. Apart from this, Plant Health Clinic-cum Bio-fertilizer Production Lab , Soil and Water Testing Lab, Home Science Lab, Library, Training room are facilitated in this administrative building. An Exhibition-cum-conference hall is also attached with this wing which is well facilitated with Power—Generator to supply electricity to Administrative wing.
Farmers Hostel

With the view to accommodate the farmers and trainees who are coming for long and short duration trainings courses at KVK, a Farmers Hostel was constructed during the year 2007 with plinth area of 296 Sqm. Well furnished 6 rooms that can accommodate at least 30 farmers/trainees at a time. The facilities are also available on nominal charges for outside farmers who visit us during study tours.
Staff Quarters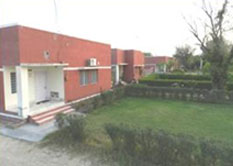 KVK is situated about 3 km away from the city outskirts and the city is not facilitated with city bus services. In view of the fact, 6 staff quarters were constructed at KVK premises (plinth area 401 sq m) during the year 2009 to provide residential facility to staff . Presently all are occupied by the staff.
Library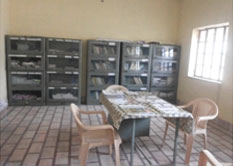 A well furnished library is a part of administrative wing having 500 books, 400 periodicals, new letters, magazines, quarterly and weekly news papers, etc. are available for reading to faculty, staff members and farmers.
Seminar-cum-Exhibition Hall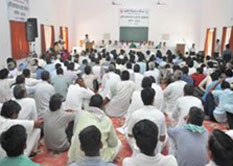 KVK have well furnished Seminar-cum-Exhibition Hall which is equipped with LCD Projector, Public Address System, Round conference table with luxury chairs. It can accommodate 50 to 250 members/farmers at a time.
Training/Class room
A well-furnished Training/Class room equipped with necessary table, chair, with LCD projector running in the administrative wing of KVK to provide training.
Home Science Lab
Well equipped Home Science Lab is functioning in the administrative wing. The Laboratory is having the facilities of making various pickles, cutting and stitching of clothes, local water purifying system, solar cocker for drying vegetable and fruits for preservation. It has the models of Nutri- garden, embroidery etc. for exhibition.
Godown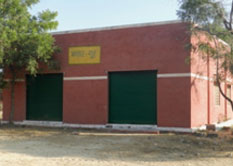 KVK have constructed a godown in the year 2008 having the plinth area of 100 sq m to store farm produce, seed material, office materials , etc. by protect from insect-pest and safe manner.
Demonstration Units
KVK-Sardarshahar has different type of demonstration units, which will give villagers first-hand experience of the innovations and trends in agriculture and allied areas. The followings are main stream demonstration units established at KVK.
Soil & Water Testing Laboratory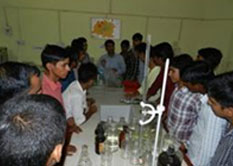 The well equipped Soil and Water Testing Laboratory established in 2005 having the facility of testing soil parameters viz pH, EC, Organic carbon (nitrogen) phosphorous and potassium. The analysis results are given in the form of soil health card to farmers at reasonable rate. The laboratory is supported with computer facilities for more precise interpretation of results.
Plant Health Clinic -cum -Bio-fertilizer Lab.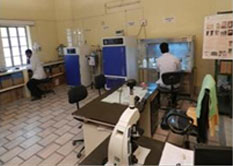 The well equipped Plant Health Clinic was established in the year 2012 which is further upgraded into Bio-fertilizer Production Lab in 2014. It facilitates to farmers for diagnosis of seed and soil born diseases and insect- pests. The remedial measures are suggested as per recommendations. Bio-inoculants (Rhizobium, Azotobactor, Bacillus and Trichoderma) are being produced in this lab and distributing to the farmers for demonstrations.
Nursery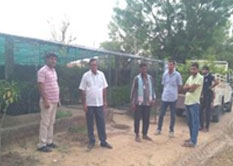 The nursery was established by the funds of State Government during the year 2007 in 0.12 ha area. The unit is being used to impart horticulture trainings to the farmers as well as vocational trainings to the rural youth. We are supplying good quality planting materials of arid fruits, vegetables, ornmental and shadow plants to farmers of the area.
Orchard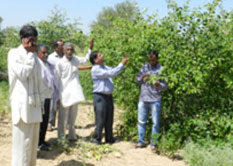 KVK has a modal orchard unit in 0.5 (ha) having mother plants of Ber (variety gola and thai apple), Pomegranate (variety sinduri and mridula), Lehsua (Cordia mixa) and Lemon for propagation of quality planting materials and to use as demonstration unit.
Seed Processing Unit
This unit was established during the year 2007 and having the capacity of grading 5 to 8 q seed per hour. Seed material produced at KVK farm is graded in this unit and used for seed material. The unit also serves for the farmers of the area for grading of their seed material on custom hiring basis.
Aloevera Unit
Aloevera production unit was established in the year 2012 in 0.25 ha area. Later it extended upto 3 ha area as a large scale production unit. The main aim of the unit is to fulfil juice extradtion and supply to the farmers of the area as well as to the general public on nominal price.
Water Harvesting Structure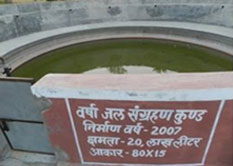 The district Churu is having low and scanty rainfall and famine condition prevailing continuously. Life saving irrigation is necessary for the standing crops at KVK farm, therefore the water harvesting structure constructed during the year 2007 in 1810 sq m with the capacity 20 lac liters. It is connected with roof top rain water harvesting from KVK buildings and used to irrigate the vegetable and orchard unit of KVK farm through drip system.
Agriculltural Engineering Workshop
This unit was established in March, 2007 for conducting vocational trainings for rural youths and need based improvements in farm implements. This unit is very useful for practical training, repair & maintenance of agricutlural implements, plant protection equiments, etc.
Azolla Unit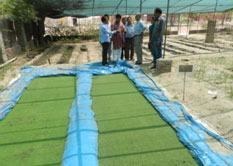 A small Azolla unit was developed at KVK to provide seed material of Azolla for farmers and dairy purposes. This unit is supply unit of green fodder in fodder stressed areas having good nutritional values.